Go Apple Picking at these Naperville Apple Orchards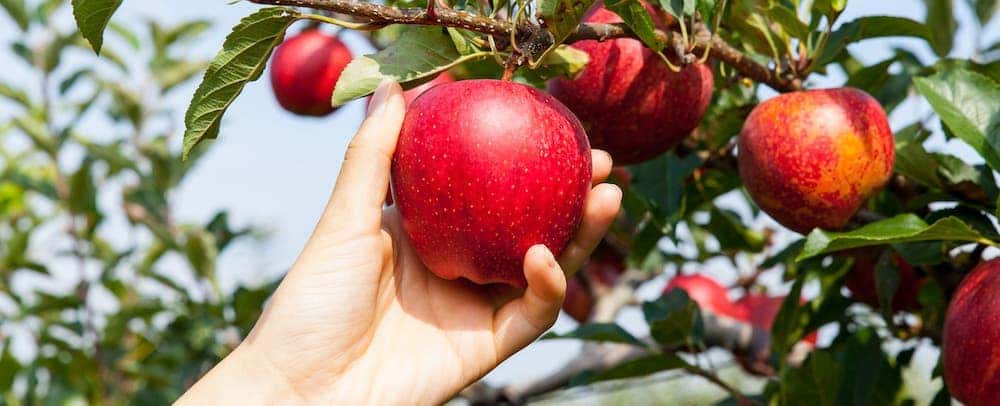 We know that some of our readers look forward to picking out the family's pumpkins for carving or tree for decorating, but at Gerald Nissan of Naperville, one of our favorite fall pastimes is going to an apple orchard near Naperville and picking some apples with the whole family. Whether you're heading out to the suburbs for a break from the city or are simply looking for a nice weekend activity for the kids, apple picking is a great choice — and we've got a list of apple orchards near Naperville for you to visit.
Apple Picking and More Near Naperville
While you'll surely be able to visit any of these locations to pick some apples, we recommend checking their individual websites to see what else they have going on. Many have special fall activities planned and may even have some spooky events come October.
Jonamac Orchard: With no admission fee — just buy your bag — Jonamac is a favorite for family apple picking, especially if you've got some younger kids who may be more interested in playing in the leaves or running around. You can also pick your own pumpkins while you're there.
Kuipers Family Farm: With over a dozen different apples and picking days through October, Kuipers Family Farm is a go-to for many of our Naperville families. Admission is $10.99 per person, which includes a 1/4 peck bag of apples (children 2 and under are free, but don't receive a bag).
Abbey Farms: Born from the 1930s and the Monks of Marmion Abbey, the modern day Abbey Farms is host to all kinds of events — you might have been to a wedding or corporate retreat there — but we're looking forward to the apple orchard they're breaking ground on right now.
Where Do You Go Apple Picking?
No matter what, you'll have to go on a bit of a drive to find an apple orchard near Naperville, but hopefully you won't need to go too far. If it rains, maybe check out the Naperville Riverwalk, a movie theater nearby, or some of the other best things to do in Naperville! Let us know where you go apple picking — or say hi the next time you see a member of our team at a nearby orchard. You can also learn how local business owners can also take advantage of our Nissan commercial vehicles for sale.
Curious about more local tips? Learn more about the Naperville Salt Cave with our help!
More Local Fun Near Gerald Nissan of Naperville?