How To Jump Start Your Car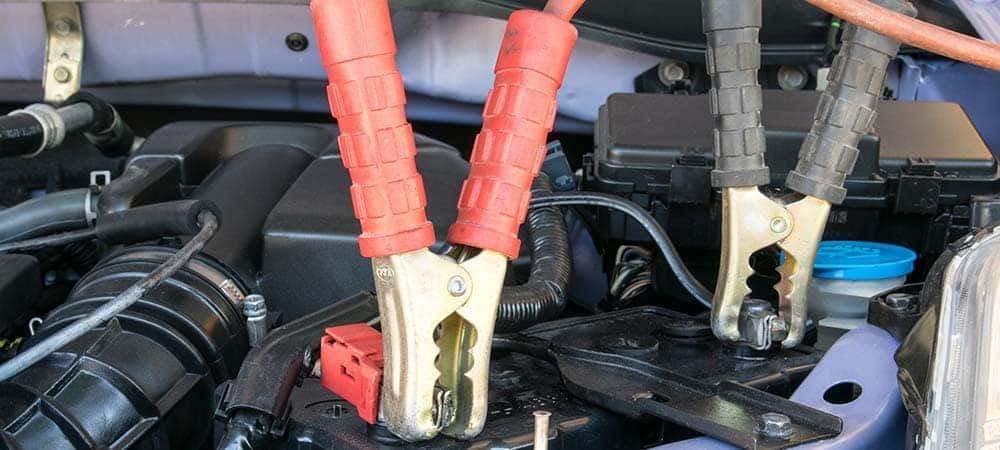 Most drivers need to give or receive a jump at some point in their driving life, and you should know how to jump start a car the right way. Gerald Nissan of Naperville has a step-by-step guide jump starting a car that can help you out in a pinch. If your battery died around Aurora or Plainfield, remember that our parts department has a replacement Nissan battery for you — and don't hesitate to contact our service center with have any questions.
How to Properly Jump Start a Car
It's important to follow these instructions in order. Failure to do so could cause sparking or damage your car or battery.
All you need is a friendly face with a charged up car battery and a set of jumper cables to get started back on the road to Aurora or Bollingbrook
Park both cars so their hoods are facing each other
Make sure each vehicle is turned off — apply the parking brake for added safety
Open the hoods and find each car's battery. If there's a plastic cover over the battery terminals, remove it.
Find the red terminal — this is the positive one. The negative terminal is black.
Remove any corrosion or dirt from the terminals with a rag.
On the dead battery, connect the red jumper cable to the red terminal
On the good battery, connect the other end of the red cable to the positive terminal
Stay at the good battery and connect the black clamp to the black terminal
Connect the final clamp to the metal of the jump start car's frame, in a spot without any paint on it
Double check your cable setup; go back up and review our steps before continuing
Start up the car with the good battery and let it run for a few minutes
Try to start the dead car's battery. If it doesn't start right away, have the driver of the good car rev their engine a bit
Once you've jump started your car, let it run. DO NOT turn off the engine right away
Your friend can turn off their car, but you should let your engine give some life back to your battery.
Carefully disconnect the jumper cables without letting the clamps touch each other
Remove the black clamps first, then the red.
Drive your car around for 10-15 minutes to allow the battery to build up more charge.
More Battery Tips
If you've followed our steps and still your car won't jump start, it may be time for a battery replacement.
If you hear a clicking sound when you attempt to turn on the engine, your car likely won't jump start due to a starter issue.
If electrical systems (lights, etc) work but the engine won't start, there could be an issue with the ignition switch, battery, starter, or a fuse.
If any of these issues arise, schedule service at your Naperville-area service center.
Choose Gerald Nissan of Naperville for Service
No one likes to need a jump, but it's important to know how to do it. Now that you know how to jump start a car, remember to visit a service center for a new battery; a jump start is the first sign your battery is not long for this world. You can even learn about how often you should rotate your tires.
Contact us today if you have any questions, and don't forget to save with our service specials. Or, if you have additional work to be done, check out our parts department. Also be sure to read ip on the difference between used and certified pre-owned models.
More From Gerald Nissan of Naperville
Most drivers need to give or receive a jump at some point in their driving life, and you should know how to jump start a car the right way. Gerald Nissan of Naperville has a step-by-step guide jump starting a car that can help you out in a pinch. If your battery died around Aurora or Plainfield, remember that…

Schedule Service The general rule of thumb for years now has been for oil changes to be done every three months or 3,000 miles. That's no longer the case thanks to advancements in automotive engineering and technology. Now most manufacturers recommend changing oil every 5,000 miles, but that can vary based on make and model….

If you're one of the many drivers who will be traveling this holiday season, make sure your car is ready for the trip to ensure a safe a smooth ride. The best way to prepare your car for a great drive is to bring it in for auto service. At Gerald Nissan of Naperville, we…